My favorite tennis players from the 90ies
Links to YT videos.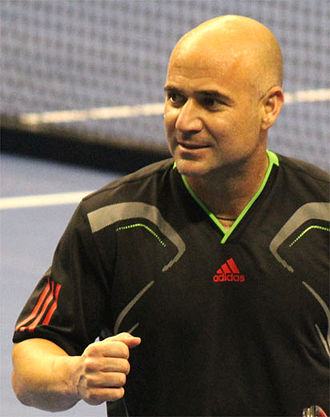 Andre Kirk Agassi (/ˈæɡəsi/ AG-ə-see;[2][3] born April 29, 1970) is an American retired professional tennis player and former world No. 1.[4] In singles, Agassi is an eight-time Grand Slam champion and a 1996 Olympic gold medalist, as well as being a runner-up in seven other Grand Slam tournaments.
During the Open Era, Agassi was the first male player to win four Australian Open titles, a record that was later surpassed by Novak Djokovic when he won his fifth title in 2015, and then by Roger Federer in 2017. Agassi is 2nd of five male singles players to achieve the Career Grand Slam in the Open Era after Rod Laver and before Federer, Nadal and Djokovic and fifth of eight in history,[5][6] the first of two to achieve the Career Golden Slam (Career Grand Slam and Olympic Gold Medal, the other being Rafael Nadal), and the only man to win a "Career Super Slam" (all four majors, plus the Olympic gold medal, plus at least one title at the ATP Tour World Championships).[7]
This text is synced quickly.